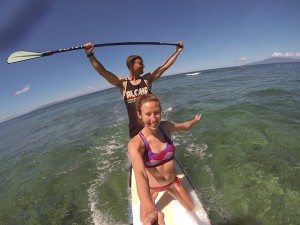 This is the english version of Katie and Gwen's blog about their jouney to Hawaii. Katie and Gwen are sponsored by Vegan-Supps by POWERSTAR FOOD. "Bed and Broccoli"
Right before we left Australia we were invited to go stay at a vegan bed and breakfast called Bed and Broccoli, outside of Melbourne, so we took the amazing opportunity and went up for the weekend. We arrived to this amazing cute little safe place for animals that was so much more than a b&b, it was actually also a tiny farm animal sanctuary where they had rescued animals roaming the fields surrounding their house. Ironically this little sanctuary is surrounded by he largest dairy farm in the state of Victoria. So literally this little safe place for animals was surrounded by enslaved animals, which made for a very interesting dynamic with lots of potential for change.
We were so excited to stay off the ship for a weekend in this cute little bed and breakfast, which was actually located in a separate house from the main house, in an old dairy building. It had a wood fire which we just loved, a blender which became our best friend, and a great relaxing living space and large bed that we could actually fit into!
The weekend was a blast, we were pleasantly busy yet relaxed as we went on runs. The morning, we learned how to cook veganCrepes and Creme Brûlée French style for Gwen, which was so much fun and so yummy, and we filled the remainder of our time petting and feeding the hens, and reading!
It was so wonderful, and the couple that run the B&B are so wonderful and truly care for the animals and about spreading veganism in a practical non aggressive manner. We recommend that everyone stay at this amazing palace while visiting Australia!
 Vegan Traveling
Our time was up on board the ship, we had spent two years on the ships with Sea Shepherd and it was time for us to take some time off, go back to school and make some money. We were heading to Hawaii, and we wanted to travel and eat well, which in our minds means eating healthy. We knew that we can not rely on the airline to carry anything worth while so we made up our own food. We made raw buckwheat crackers and raw zucchini pesto, wow was this a treat! We also dehydrated loads of fruit and took that along with various raw bars, fruit, nuts and seeds and even a can of cooked beans! Everyone who saw us eating our amazing food was commenting on how good it looked, even one of the flight attendants came and found us after we got off the pane and asked us what we were eating because it looked so good.
Hawaii
Gwen being French and all, had never been to Hawaii, let alone the USA, so is this trip was extremely exciting for the both of us. On top of that, Hawaii happens to be Gwen's favorite place in the world, he has been dreaming about going to Hawaii and surfing all the famous spots since he was a kid! We started off in Oahu where we stayed with a good friend in the beautiful town in Kailua, just a block from the beach! Man were we lucky to get to stay there, as it turns out Kailua beach is one of the best spots in Hawaii for Kitesurfing in the summer, and it is where there internationally known Surf company Naish Hawaii is located! We were in heaven if there was one.
We would wake up in the morning and go on a run on the beach, come back and make a fruit smoothie for breakfast (oh did I mention that my friend also happened to have a freakin Vitamix Blender!!! It doesn't get any better than that when your eating raw).  After our smoothie we would shower and head back out to the beach for a swim, or a hike, swim at a waterfall, or an adventure of the area by foot; which is something we have really come to love over the last few years. Having a car is over rated. It's so cool to get to a new place and see a mountain and say I want to go there, and then walk there!!! We would then come back to my friends house, sweaty, hot and loving it, make ourselves another fruit smoothie for lunch and head back out!
Being a raw veganis soooo easy. We would swing by whole foods daily and pick up the ripest most tropical fruit we could find for our meals, and for dinner we just made huge green salads loaded with veggies, topped with nutritional yeast and Braggs. Living like this was just perfect. At the house they even had a papaya tree loaded with ripe papayas that Katie would climb and collect fruit from, now that's local fruit!
Gwen checked one thing off his bucket list when we rented a kite board and he was able to use his kite and go kitesurfing one windy day in Kailua beach! Perfect!!!! He hadn't kited in over a year so he was terribly sore because if you don't know, kitesurfing is an extremely physically demanding sport.
We couldn't go all the way to Hawaii without going to Maui and seeing all the famous spots and surfing them too! So we hopped on a short 30 min flight over to the island, rented a car, and began exploring! We decided to do a tour of the island and see everything! We started by visiting the cute little town of Paia on the North Shore, which is known for its surfing and it's vegan food and community. We grabbed some lunch to go at Mana Foods, the towns only supermarket, which had the largest vegan food selection we had ever seen, and it's located in this tiny little town, it was so awesome. We scoured the store for all the vegan things, there were vegan baked goods, vegan pumpkin pies, vegan everything! We decided to be cheap, and stay raw so we found our way to the produce section where we found the old fruits on sale. This was a major find because they had huge bags of bananas, pears, and papaya that was too ripe for regular sale, but perfect for us! And it was dirt cheap, pennies.
Next we stopped at the famous Hookipa beach park, one of the best windsurfing spots in the world, and imagined how big the winter swell must be crashing into the rocks. 
We then drove the highway to Hana, which was so beautiful, it was along he coast and in a rain Forrest. Near the end of the highway to Hana we stopped at this little shack on the side of the road that was selling homemade vegan coconut ice cream, COCONUT GLEN'S.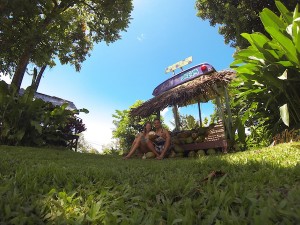 It's was so good and refreshing! After our coconut fix we headed back along the slow windy highway back to Lahina where we were staying the night with a friend.
In the morning we woke up early and went on a beautiful run along the volcanic rock coast line! We then went and rented a stand up paddle board, strapped it to he top of our tiny car, and drove to the beach where we were going to surf! Since Gwen is an experienced paddler, he stood on the back of the board with the paddle while Katie was on the front like a dog! It was hilarious and we were the only ones doing this because I guess it's kinda weird and it's pretty hard!
We rode double and caught some amazing waves! Gwen also saw a baby hammer head shark, which is a relief to know that there are still some sharks to there that humans haven't killed. After our surf we headed to the CHOICE HEALTH BAR in Lahina that is know for its ACAI BOWLS, so of course we had to see what all the hype was about. Vegan, healthy, fruity, cold, all the things we want in the summer.The Acai bowls were truly amazing, and we took the idea with us and have been making home made raw versions of them every morning since!
We arrived in Idaho
Idaho is where Katie grew up, where her parents are and where we are staying for he summer. Located at the very northern tip of Idaho near the Canadian boarder, Sandpoint our temporary home is a small town next to a huge lake and huge mountains! It is just the best spot to be if your are training for ultra marathons like we are!
Ok it's time to train, we will see you next time in our adventures in he mountains in Idaho!
Yours 2 healthy fit vegans Katie and Gwen
Find your vegan supps at Vegan-Supps.de by POWERSTAR FOOD